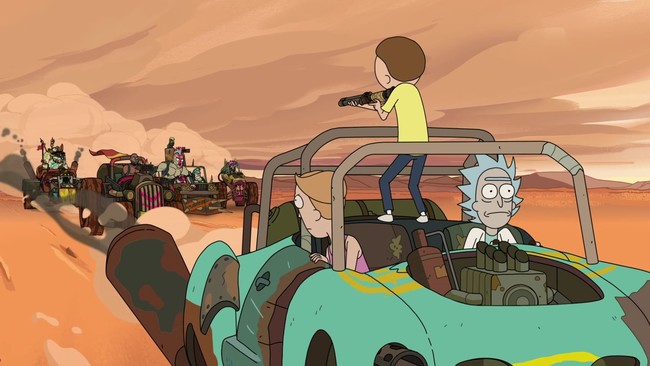 Comienza abril y, lamentablemente, no todo son novedades mensuales. También nos encontramos con series y películas que dejarán los catálogos de nuestros servicios de vídeo bajo demanda favoritos. Como es el caso del de Netflix.
Como todos los meses, nos toca hacer un repaso de todas las películas y series que abandonan Netflix España y Latinoamerica este mes de abril. Tenemos, sobre todo en Latinoamerica, que decir adiós a cosas como 'Rick y Morty' y el vol. 2 de 'Kill Bill'. Mientras, en España todavía sabemos pocas despedidas. Sin embargo, estad atentos ya que iremos actualizando este artículo.
Netflix España
Sábado 14
Domingo 15
'Daniel Tigre y sus amigos'
'Hot Wheels: Battleforce 5'
Netflix Latinoamérica
Domingo 1
'All relative'
'American High School'
'Bitten'
'Anatomy of a love seen'
'Animals united'
'August rush'
'Awake: The Life of Yogamanda'
'Bernie'
'Bad boys II'
'Boulevard'
'Black Rock'
'Bogus'
'Bringing down the house'
'Camino'
'Cleveland Abduction'
'Dangerous Beauty'
'Codegirl'
'Courage: the cowardly dog'
'Daddy Day Care'
'Drop dead diva'
'David and Goliath'
'Dirt every day'
'Due Date'
'Entrapment'
'Epic drives'
'Food chains'
'Frat party'
'Force of execution'
'Guilty by suspicion'
'Head 2 Head'
'Hot rod unlimited'
'Highland park'
'Ignition'
'Isa TKM'
'Jeff, who lives at home'
'Joe Somebody'
'K-9 Adventures: Legends of the Lost Gold'
'La prepago'
'La Bestia'
'Life after Beth'
'Lake Placid vs. Anaconda'
'Little Ponderosa Zoo'
'Life or Something Like it'
'Locke'
'Little Red Wagon'
'Low down'
'Maradona'
'Mirrors'
'Mily Miss questions'
'Mischief night'
'My big big friend'
'Oriented'
'Our Family Wedding'
'Pan Am'
'Pigs'
'Peninsula Mitre'
'Que OJOnes'
'Rudderless'
'Roadkill'
'Scorpion King 4'
'Shadow dancer'
'Second best'
'Spanglish'
'Simply irresistible'
'Stand off'
'Stake land'
'Stay'
'Sulemani Keeda'
'Stripper'
'The client'
'The anomaly'
'The Little Lulu'
'The Legends of Bruce Lee'
'The New Age'
'The Second woman'
'The Scapegoat'
'The Spectacular Now'
'Time out of mind'
'Timmy Time'
'Timmy Time: Timmy's Seaside Rescue'
'Timmy Time: Timmy's Christmas Surprise'
'Turtle Beach'
'Uncle Grandpa'
'Young ones'
Lunes 2
'Dinosaur train'
'Sid the Science Kid'
Domingo 15
'Happy tree friends'
'Cosmos: A spacetime odyssey'
'Bubba y sus amigos'
'Bob Zoom en español'
Lunes 16
'Wild Kratts'
'Daniel Tiger's Neighborhood'
Sábado 21
'Go! Mrs. Go!'
'Birdie Buddy'
'Tamra, the Island'
Domingo 22
También te recomendamos

Quentin Tarantino: 'Kill Bill vol. 2', el retrato de una venganza completada


Las mejores secuencias de acción de la Historia del Cine


La importancia de la refrigeración en un portátil

–
La noticia

Todas las películas y series que abandonan Netflix en abril de 2018

fue publicada originalmente en

Espinof

por
Albertini

.

Source: Blog de Cine